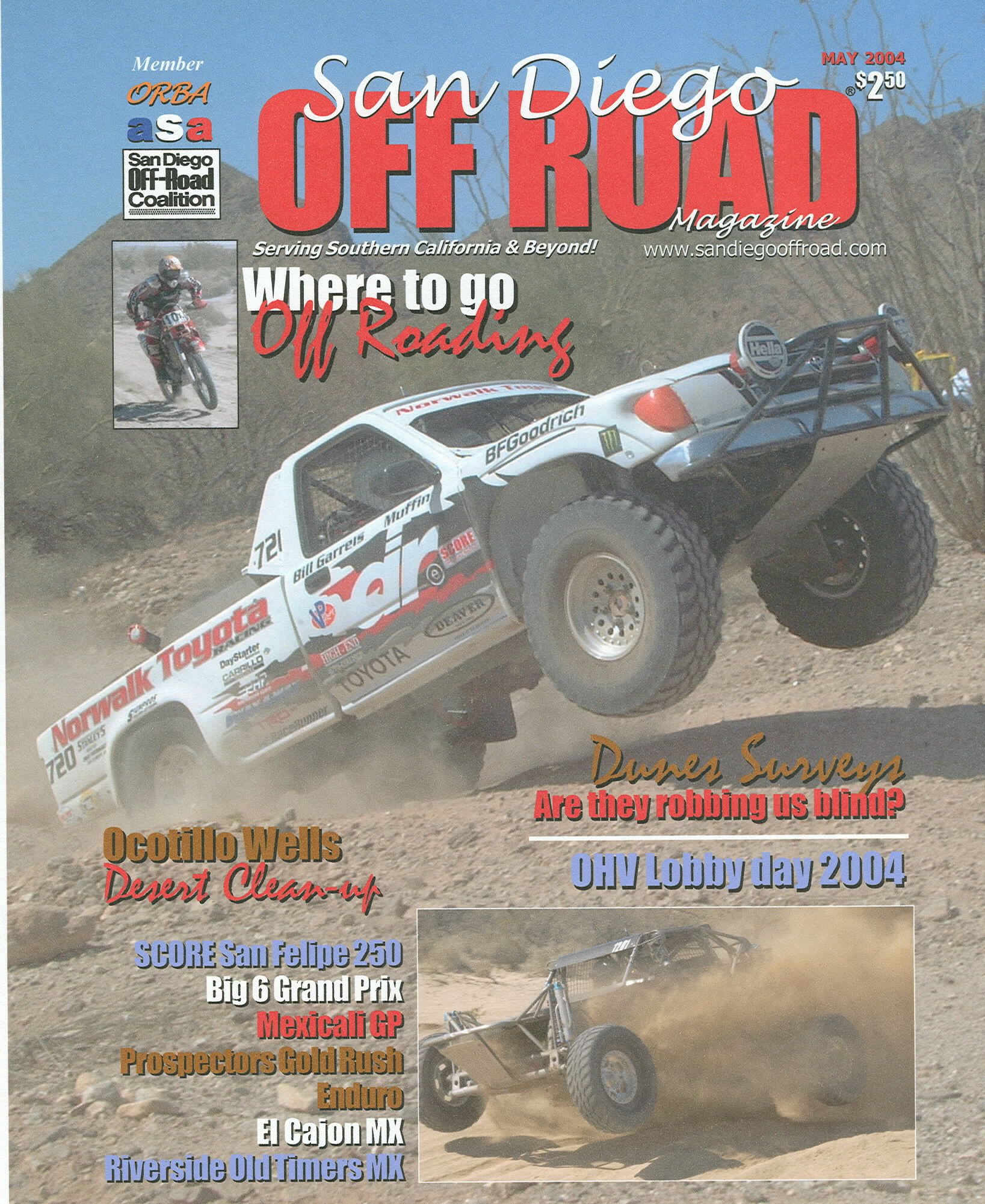 <![if !vml]>
<![endif]> The complete contents of the May 2004 print version includes:
Sherri's Turn
Letters
IT'S ALL ABOUT THE MILITARY
Dear SDOR,
I am deployed in Germany with my reserve unit from Socal. I work in a place called the Deployed Warrior Medical Management Center (DWMMC). We treat and take care of the injured troops that are fighting America's battles. . . .
Classified Ads
Golf Cart, or utility cart, Electric, 2 seats in front, flatbed in rear, needs work, rusted, not running, no batteries. Not sure what all it needs. $350 [email protected] can email photos. 760-390-1549 MORE
Letters
Coming Events
MX Tracks: How to Get There
Dirtbits
Ocotillo Wells Desert Clean-up
OHV Lobbying Day
Leadfoot Industries
Where to go off roading
Off Road Politics
Trivia
A Rider's View
Off The Road Again
A Racer's View
Trivia Junior
RACE RESULTS:
SCORE San Felipe
Prospector's Gold Rush Enduro
Dirt Diggers Desert Scramble
Big-6 GP
Mexicali GP
SRA Grand Prix
Barona Oaks MX
Cal VMX Motocross
Riverside Old Timers MX
El Cajon MX
SCFTA Flat Track Racing
Fud's Crud
Index to Advertisers
Classified Ads
Sign-up Booth
Dirtbits
Eagle Flight® Commercial Grade 12 Volt Air Compressor
The 12 volt commercial grade air
compressor is a great way to prevent having to return home early from riding a dirt bike in your favorite remote location simply because you have a flat tire. MORE
Race Results
SCORE San Felipe 250
February 28, 2004
Photo by Trackside Photos
PRO CARS & TRUCKS
SCORE TROPHY-TRUCK (Unlimited Production Trucks)—1. Mark Post, San Juan Capistrano, Calif./Jerry Whelchel, Rancho Santa Margarita, Calif., Ford F-150, 3 hours, 36 minutes, 44 seconds (63.06mph) (FIRST OVERALL) MORE
MAY 2004
<![if !vml]>
<![endif]><![if !vml]>
<![endif]>