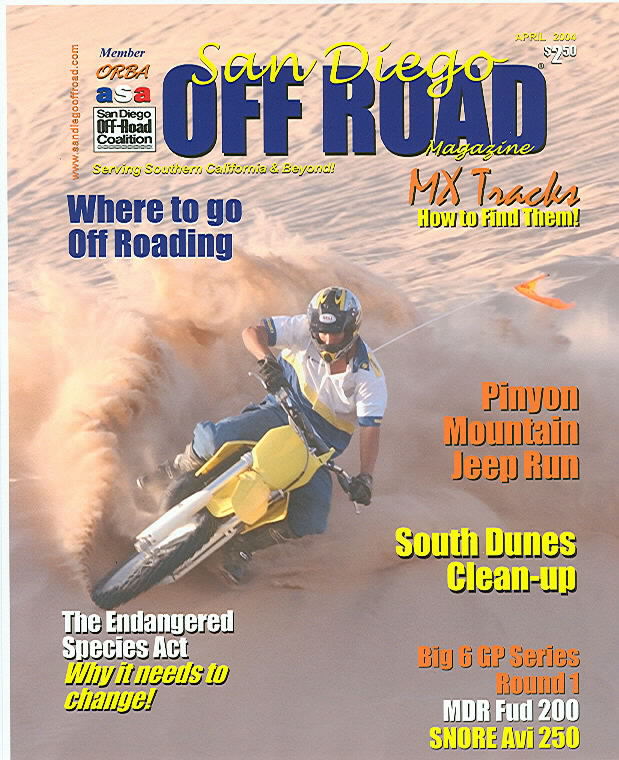 Plus tons of photos & over 100 off road business ads!
The complete contents of the print version includes:
Sherriís Turn
Letters
Photo Gallery
Coming Events
MX Tracks: How to Get There
Dirtbits
South Dunes Clean-Up
Soboba Trail Ride
Where To Go Off Roading
The Mendeola Transaxles Story
Trivia
Pinyon Mountain Jeep Run
A Riderís View
Off Road Politics
Off The Road Again
A Racerís View
RACE RESULTS
Big 6 GP Series Round 1
MDR Fud 200
SNORE Avi 250
D38 Desert Scrambles
CODE Awards Banquet
D38 Fab 4 Desert Championship
Trivia Junior
Fudís Crud
Index to Advertisers
Classified Ads
Sign-up Booth
Letters
GREETINGS FROM
ALASKA
SDOR,
Just surfing around and stumbled upon your sight and havenít even delved into much of it yet. What Iíve seen so far is all right. Iím a member of the United States Air Force and wanted to tell you guys...
<![if !vml]>
<![endif]>
Race Results
AMA District 37 Big 6 Grand Prix Series
By Lee "Sizzlin" Bacon
Round 1 of the District 37 AMA
Big 6 Grand Prix Series was one of the largest turnouts ever
for the six race series. And with a rider count of over 1300 entrants for the two day event, the spectators got to see some top notch racing!
MORE

Dirtbits
The Smartest Recovery Strap to Hit the Off-Road Industry
Anaheim, CA Ė RedArt
Inc., manufacturer of Beard Super Seats and Trust Me Tie-Downs, introduces the Super Strap recovery strap. Ever wrapped a recovery strap through one vehicle to find out that you donít have a clevis or other hardware to attach the loop on the other end?
<![if !vml]>
<![endif]>
Classified Ads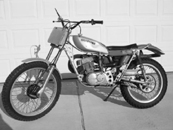 1975 Suzuki RL250 Trials Motorcycle, runs good, most of all original parts, new tires. Price $2,000 obo.714-537-0197 or [email protected] and [email protected]
<![if !vml]>
<![endif]>1979 YZ100 , new top end, handlebars, grips, levers, tires. Very fast. $800 OBO (714) 997-7335