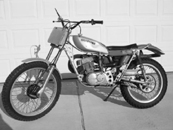 1975 Suzuki RL250 Trials Motorcycle, runs good, most of all original parts, new tires. Price $2,000 obo.714-537-0197 or [email protected] and [email protected]
1979 YZ100 , new top end, handlebars, grips, levers, tires. Very fast. $800 OBO (714) 997-7335
69 Baja Bug: New 1914 engine, full cage, racing seats, new close ratio transmission, 5 inch wider coil over front suspension w/Disc brakes. 3x3 w/coil over rear 8 inch over stock wheelbase. $7500.00 obo. 909-246-9251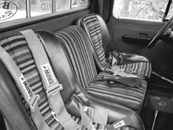 Class up your ride! Pair of used Beard suspension seats. One extra large and one regular size. Dark brown vinyl backs & side panels with nice brown patterned tweed inserts. $100 firm for the pair. John Kuykendall 949 251-7860. [email protected]

T2K Trailers for all your off road needs. Trailers custom built...not custom priced. Off road accessories at discount prices. T2K Trailers, 23810 Old Ranch Rd. Apline, Ca. 91901. 619-445-0774" 6.5'x12' trailer, including ramp for $900, plus tax. 3500# capacity.

VINTAGE MOTORCYCLE FOR SALE 1974 SC500 Yamaha Scrambler, fresh bore, second over, new air filter, handlebars, sprockets and chain. Rebuilt forks, like new tires. Super clean $1600 OBO 760-765-0331

VINTAGE HUSKY PARTS FOR SALE. Mid 70's (18") and mid 80's rear (17") and front wheel (21") assemblies, some without backing plates or axles, $50 ea., 2- 125 front wheel aluminum assemblies complete with backing plates (1970s for $50 ea.). 1 Husky aluminum tear drop fuel tank, white $40. 1 pair of vintage length piggy back Ohlin Shocks, 4" travel, good seals, $250. 1 pair of fairly new S&W shocks, 17" travel $250, came off of an 1984 500 CR. 1 brand new set of Hot Rod Husky Triple Clamps, in the box, never used ever $300. I bought them for my 75 Husky 400 WR. Save $95 over magazine bought ones! Wheel truing machine, clamps to work bench, in the box, never used $125. New was $175. 1974 Husky 400 WR engine 6-speed, bought as spare in 7/02 but never used. $500. New Rear spring (Blue) and taillight assembly for 1987 Honda XL 600, never used, $50 together. Call 619-425-1135 (San Diego) and ask for Steve or leave a message. Email is [email protected].


1999 WRANGLER 4 cylinder, 5 speed, alloy wheels, all terrain goodrich tires, am/fm/cd player, sound bar, 3 door contacts/interior beam security system, beige denim seat covers (Jeep), jeep carpet mats, car cover, bikini top, window bag, rear seat never used (stored), 2004 tags paid in January '04, detailed inside/out 01/04, 31,000 miles, no dings, dents or scratches, mopar front, side and rear, bike/utility rack on rear tire (removable) $12,900 Escondido


1994 17' TOY-BOX TRAILER: Single axle, electric brakes, sink, 15 gallon water tank, 12V/110, Rear door opens upward for shade, large side door. Ideal for bikes, quads or craft type vendor use. $3700. obo 92-97 factory radiator for Ford F350 4x4, $150. (760) 721-3721; email: [email protected]